The Best Way to Display a Quilt
Hang up that quilt because it's a piece of art! Our wooden Quilt Hangers are made for hanging up quilts, blankets, rugs, tapestries, puzzles, large canvas art, and more! These are heavy duty hanging frames with strong screw fasteners that securely grip onto your material (without going through it).
Solid Oak Wood

Sturdy hardwood that is cut to your exact length

Screw Through Back

Hardware is not visible on the front of the frame

Easy to Use Hardware

Includes hardware to compress planks together

Hang it up!

Choose either sawtooth hardware or rope to hang it
Over 800+ Five Star Reviews
Thousands shipped worldwide. Our happy customers include quilters, high-end interior designers, hotels, offices, restaurants, museum curators, and other small businesses. We also sell our Quilt Hangers on Etsy, where we are ranked as one of the top selling shops with over 800+ five star reviews. We also have a growing fan base over here at our new website.
Read Customer Reviews
About Our Products
Tons of Sizes Available

We sell Quilt Hangers anywhere from 6" up to 95" wide (8 feet long)!

Strong Screw Fasteners

These screws compress the planks together (they do NOT go through your material!)

6 Stain Color Options

Choose from Natural, Aged Oak, Walnut, Whitewash, Greywash, or Ebony.

Sawtooth Hanging Hardware

These make your Quilt Hangers to appear as they are floating on the wall for a clean look.

Or Choose from 3 Hanging Ropes

Choose from white cotton rope, brown jute rope, or black cotton rope to hang your quilt.
About Our Company
Eco-friendly Materials

We source sustainably grown American Oak wood and use non-toxic wood stains.

Free Shipping in the USA

Get free shipping in the US by signing up for our email newsletter!

Proudly Made in the USA

Our small team is proud to handcraft these Quilt Hangers in our shop in Utah, USA!

Friendly Customer Service

We can help you with any questions you have and make sure you select the correct size.

Over 800 Five Star Reviews

We love our customers and glad they love us, too! We're so grateful for these reviews.
See more Quilt & Rug Hanger pictures...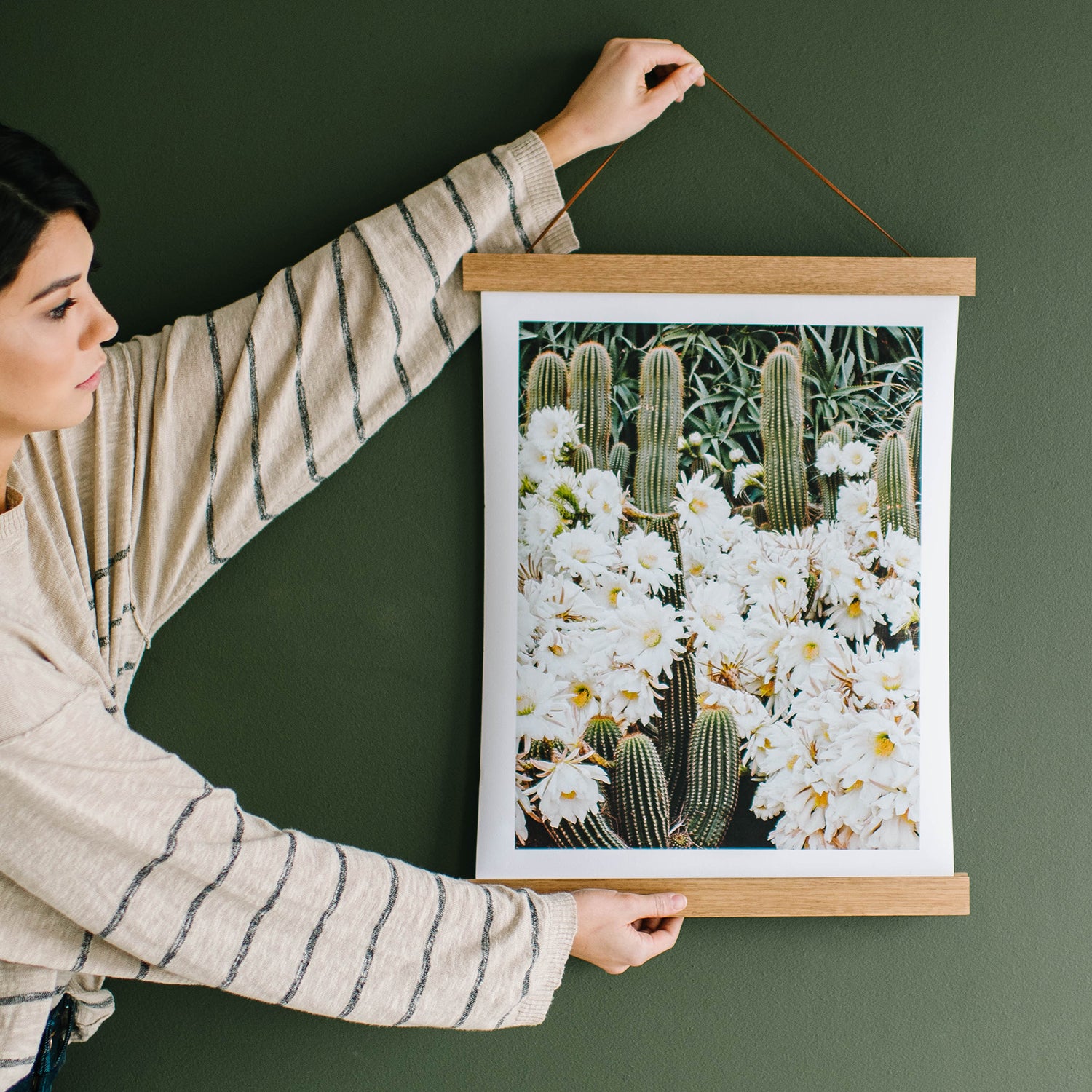 Magnetic Hanger Frames
Our Quilt Hangers that we sell on this website use special compression screw fasteners (not magnets) to grip heavy, thick, or large materials. If you're looking for magnetic Hanger Frames for smaller pieces of art (up to 48" wide) that are made of paper, canvas, or thin 1-layer fabric, then please check out our sister shop: www.HangerFrames.com
Buy Magnetic Hanger Frames
Get Free Shipping!
Sign up for our email newsletter and FREE Shipping! Redeemable immediately.