Frequently Asked Questions
You have questions? Well we have answers! Please see if you can quickly find the answers here about ordering Quilt Hangers. If you need additional help, please
contact us
.
FAQs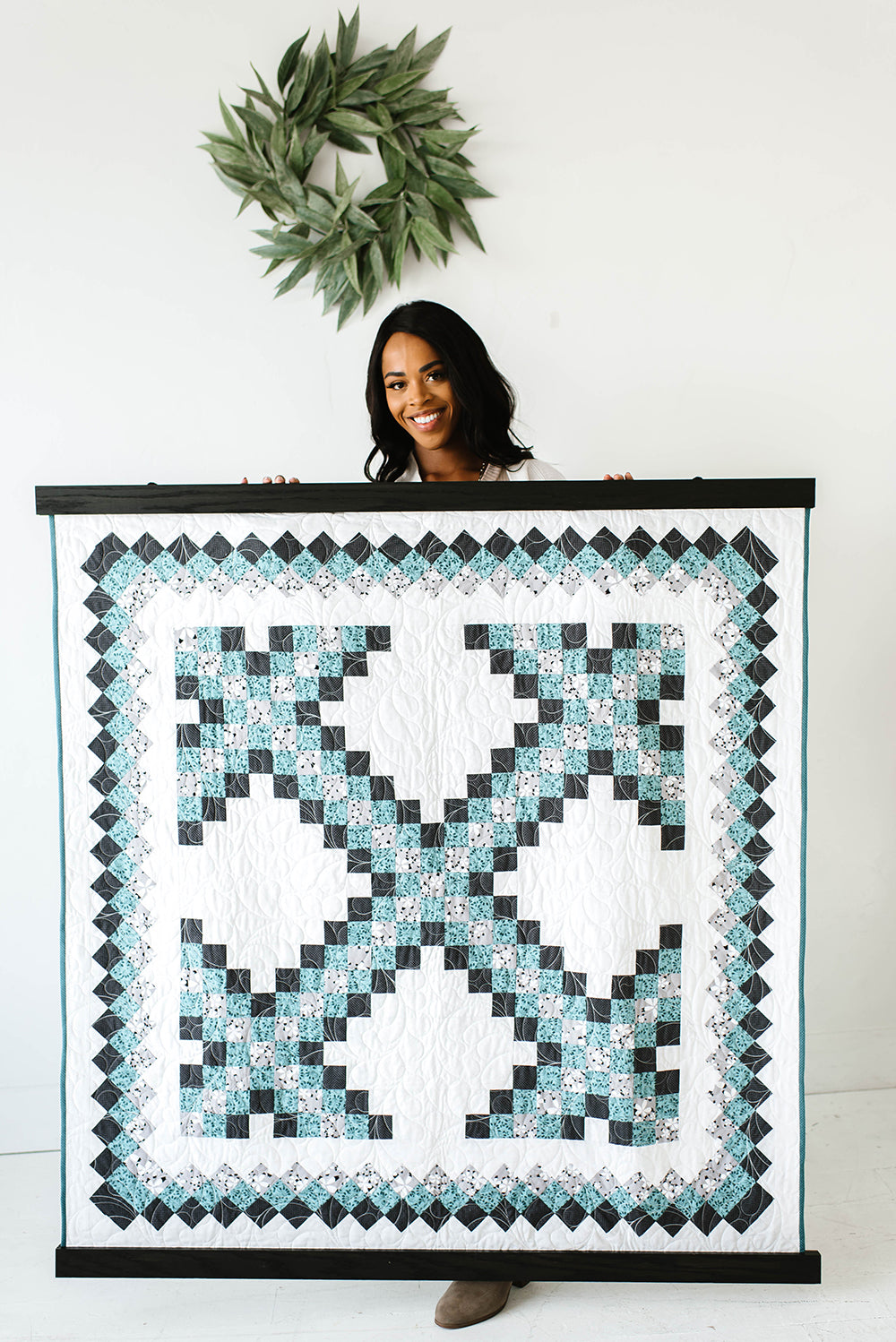 How to do these Quilt Hangers work?

Each frame has two planks of wood for the top frame and two planks of wood on the bottom frame (bottom is optional). Screws go through the back of the frame and halfway into the front of the frame which has special receivers. You will place the edge of the quilt in between the planks and then tighten the screws with an allen wrench. The screws do NOT go through the material (the binding edge stays below the screws). Once tightened, the planks compress down onto the material and holds it securely.

No worries, when you receive your package, it will come with detailed assembly instructions that take you step by step on how to install it.
Should I order the top frame only, or top and bottom?

The choice is mainly for aesthetic reasons. But most customers choose both top and bottom frames because it will help flatten out your quilt/rug and give it more structure. If you choose the top frame only, the quilt/rug will hang more freely and will have more waviness and texture.
How do I hang this frame on the wall?

You can choose between four hanging options: Black Cotton Rope, White Cotton Rope, Brown Jute Twine, or Sawtooth Hanging Hardware.

The sawtooth hardware is for a "ropeless" floating look (you will get two sets of sawtooth to put on both ends). You will also receive two screws that you will put into the wall.

If you choose a rope option, we include a generous length that you will tie and cut at your desired length. You will also receive one screw that you will put into the wall.

We recommend that you have a measuring tape, stud finder, and measuring tape to install your Quilt Hanger properly.
Does the sawtooth hardware come installed?

No, because the safest and most secure method of hanging any heavy object is by securing it to the studs inside your wall. You will need to line up the sawtooth with where the studs are in the wall. We include detailed instructions on how to do this easily.

If you're not able to locate the studs, we also include drywall anchors.
What is the difference between Quilt & Rug Hangers?

Nothing. They are actually the same product, but marketed towards different customers and different uses. They are built the same way with the same dimensions. They can hang both quilts and woven rugs. However, if you have thick knotted or tufted rug, we recommend upgrading to longer screws, which is available at the bottom of each listing.
Can this Quilt Hanger hang my ______?

This frame is very versatile and can hold more than just quilts. Many of our customer use these to hang rugs, woven blankets, flags, tapestries, canvas prints, puzzles, art board, and more. The maximum thickness of your material is 1/4" (when compressed with your fingers). We do not recommend this frame for very thin or delicate materials.

If you have an extra thick piece, please add longer screws to your order. You will see the Add Ons link during the ordering process.
What size Quilt Hanger should I choose?

We recommend ordering about 0-2 inches longer than the horizontal width of your quilt (the vertical length does not matter). It just depends on how much wood overhang (if any) you want. Many customers order a perfect fit (frame size is the same as width of the quilt). But we personally prefer about 1" of overhang on both sides.

If you're ordering a Quilt Hanger that you want to use for various different sized quilts, you can order a common sized Quilt Hanger, which is 36", 48", 60, and 72". It's totally fine if there is extra or not enough overhang when hanging a quilt, it will still work.
How long does shipping take?

Sign up for our email newsletter for FREE SHIPPING IN THE USA!

Please allow 1-2 weeks for production and 4-8 business days for UPS ground shipping. You can upgrade to a faster turnaround during checkout.

International shipping is available and will be calculated during checkout. Please allow 3-5 weeks for international. We are not responsible for any duties and taxes that your country imposes, so please find information from your country about possible import fees.

Please be patient during possible current carrier delays, which have been more common in recent weeks. Thank you!

 
What is your return policy?

We allow returns and exchanges within 30 days of receipt. Customer is responsible for return shipment costs. Quilt Hangers must be in original condition and cannot have any sawtooth hardware installed or any holes made from attempting to install hardware.

Please send the item securely packaged to:

Quilt Hangers
ATTN: RETURNS
8014 S. Welby Park Drive #205
West Jordan, UT 84088

Please notify us of your return by emailing us at hello@quilthangers.com. We will issue a refund within 3 business days of receiving the item in original condition.

If your Quilt Hanger order arrives with defects or damages, please reach out to us immediately within a week from arrival. Please email us and include photos. We will help you with the exchange process.
What if I'm having problems with my order?

Please make sure you find the instructions in your package and review the steps thoroughly. If you still have questions, please contact us as soon as possible after delivery. We strive for excellent customer service and want to help you out!
Do you offer bulk discounts?

Yes, we offer bulk discounts. Please contact us for more info.
Do you work with affiliates/influencers?

Yes! Please contact us and tell us about yourself.
Do you offer magnetic Hanger Frames?

Our sister shop Hanger Frames offers magnetic frames up to 49". These can only hold paper, canvas, or thin fabric (one layer).

If you have a piece that is larger, thicker, or heavier, you will need our Quilt Hangers, which use heavy duty screw fasteners instead.